Make your next corporate event at The Ciociaro Club complete and enhance the experience for your guests with our bar, linen, sweets and audio visual services.
Bar Service
Permit Bar
The host of the function must provide the beer, wine, liquor and L.C.B.O. Special Occasion Permit. The Ciociaro Club will provide all glasses, soft drinks, juices, mixes, condiments and labour for a charge of $13.95 per person. Champagne service available.
Open Bar
The host will provide drinks at no charge to the guests. The Club will supply drinks and charge the host on a consumption basis. For groups of less than 100 people, a bartender fee of $24.00 per hour will apply.
Cash Bar
The Club will supply everything needed to operate the bar. Guests will purchase their own drinks. For groups of less than 100 people, a bartender fee of $24.00 per hour will apply.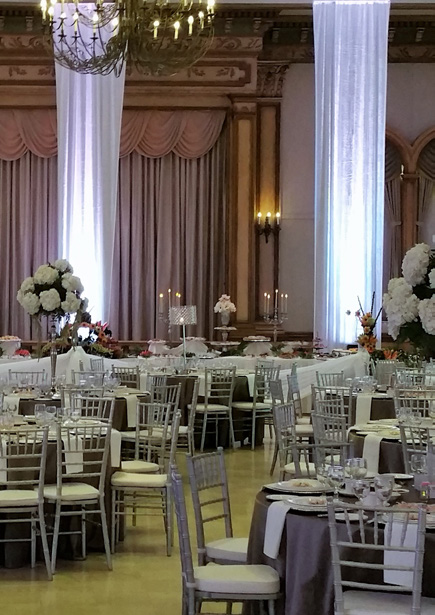 Linen
White linen tablecloths and napkins are included with food and beverage service. We would be delighted to customize your table set-ups with coloured napkins, tablecloths or overlays for a modest additional charge. Functions without food or beverage service may be subject to additional charges for linen.
Skirting
Allow us to finish your room décor by providing elegant skirting of your tables for a modest additional charge.
Sweets and Fruit
The Ciociaro Club can provide elegantly displayed sweets and fruits for your special event. Beautiful fruit carvings, fresh greenery, silk plants, skirting and lighting are used to enhance your display. Only premium fruits and the most delectable pastries are served. The Manager will be happy to discuss sweet and fruit display pricing and the many different options available.
Audio/Visual
The Ciociaro Club offers in-house data projectors (fixed and/or portable) with giant fixed screen or portable screens in all our salons. We can meet all your audio-visual needs. Our staff will be happy to help you plan a multi-media event that your guests will not soon forget!
Customers must provide own power bars & extension cords. Other equipment rentals available upon request.
Power Box
$50
Portable Screen
$50
DVD Player or TV
$50
Lapel Mic
$125
LCD Projector
(Incl. screen)
$175
Big Screen
(salons A,B & C)
$100
Cordless Microphone
$75
Flipchart
with paper
$25