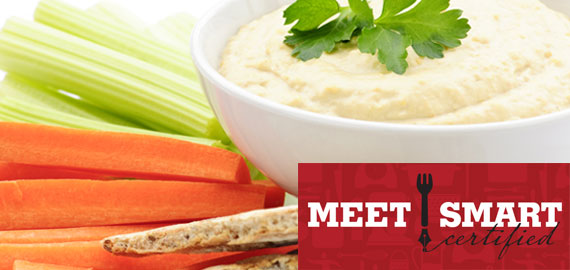 In recognition of our commitment to providing healthier options to our clients, the Ciociaro Club has become a Meet Smart certified caterer. This Meet Smart designation means that we offer affordable, healthy menu options for all meals and refreshment breaks. Meet Smart menu options are well balanced and include fresh, wholesome foods that promote good health, including:
A selection of vegetables or fruit
Leaner protein options, including lean meats, fish, and legumes
Whole grains for at least half of the grain choices
Foods that contain minimal added sugar, salt, or unhealthy fats
The Meet Smart catering designation program is offered by Go For Health in collaboration with the Windsor-Essex County Health Unit. For more information on this program e-mail nutrition@wechealthunit.org or call 519-258-2146 ext. 3100.
---
Grilled Boneless Chicken Breast Skewers with Tzaziki Sauce
Steamed Basmati Rice
Seasonal Vegetable
Garden Salad (house oil & vinegar or Greek dressing)
Small Whole Grain Rolls
Dessert**
Pitchers of Water, Coffee, Decaf Coffee, Black & Herbal Teas
---
Fresh Vegetables with Hummus
Whole Grain Penne Primavera
(homemade tomato basil sauce & spinach)
Roasted Chicken
Garden Salad (house oil & vinegar dressing)
Small Whole Grain Rolls
Pitchers of Water, Coffee, Decaf Coffee, Black & Herbal Teas
Custom and full service menus also available. Linens not included for functions without food or beverage service: Table Skirting - 25.00 per table, Tablecloths - 3.75 each, Linen Napkins .35 each. ALL PRICES ARE PER PERSON PLUS ROOM RENTAL FEE UNLESS OTHERWISE NOTED AND ARE SUBJECT TO CHANGE